What's a portable SSD used for?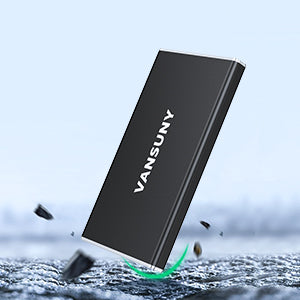 We are so dependent on computers that they have become an integral part of our lives. We use computers to store our cherished photos and videos, to get work done, and to communicate with friends via Instagram or Facebook. All these files or software are stored in the hard drive which is the core component of the computer.
However, hard drives are not with an unlimited amount of storage room. You might always find yourself running out of storage space on your laptop if you have large amounts of movies, image files, or audio production. Fortunately, you can always use a portable SSD drive to store your computer data.
A portable SSD drive is an incredibly convenient device that provides almost-instant storage whenever you need to access it. It is super easy to use without any upgrade for the computer or any manipulation of the computer's internal hard drive. Just simply plug one end of the connection cable that comes with the portable SSD drive into your computer and the other end into the portable SSD. Not limited to expand the storage or back up data, external hard drives are more versatile.

01 Storage
Life is more and more digital. We would like to use our smartphones, tablets or cameras to capture and save memories for us every day and then store these precious photos and videos into our desktop or laptop. But soon the computer will quickly become cluttered with thousands of files and slow down.
To solve this problem, you'll probably need more hard drive space than 500GB. You can use an external hard drive to store files that you don't access very frequently, like old videos, photos, projects or portfolios. Then your laptop's space will be freed up a lot, and you can add more and new files into your computer and ensure that it is always in the best state and running as fast as possible.
02 Backup
Computers are so flexible now. You would like to download a great number of pictures, music, or videos on the internet, which brings a lot of source data that may go with a virus which could end up your computer. Moisture, accidental drop or shock can also bring a complete crash to your PC. In addition, you may suffer from data loss from getting stolen.
If you have ever had any one of these catastrophic damages, you would know how important it is to always have your files backed up. And a smart way to preserve them is to back up with a portable solid-state drive which is often with the same capacity as the hard drive of a computer or larger capacity than it, say, JUANWE portable SSD drive 500GB, 1T or 2T. In that way, once you get a new computer and you could be able to transfer all the data back into it and to run your computer as before.
03 Data share
An external SSD drive featuring big capacity could carry a large amount of data and make you access them wherever you are. When you want to share your portfolio with your interviewer or projection programming to your customer, a portable SSD drive will always be the best choice. They could hold many gigabytes of data and works with whichever computer with no need for internet or Wi-Fi connection. As long as you have the external hard drive with you, you will be able to have access to all of the data.
Apart from this, what's great about an external hard drive is that it is incredibly fast. The best external hard drives have fast USB connections beyond 2.0. USB 3.0 (also known as USB 3.1 Gen 1) is with a max transfer speed of 5Gbps. And USB 3.1 Gen 2 serves up 10Gbps transfers. When you want to find your file, it will come flying up on your screen in an instant.
04 Game
Modern PC games have grown so massive that 40 or even 100GB is not uncommon, which would take up a large amount of space on your hard drive. You may feel frustrated by the slow response caused by a whole lot of installation files and patches. Get a portable SSD drive either with Thunderbolt or USB-C connector to simply install and play games directly on it, enjoying the blistering experience.
You can also take the external SSD and easily plug it into your PS4 or Xbox one, format the drive and use it as external storage for all your games. Take the fun with you while you're traveling or on a business trip.