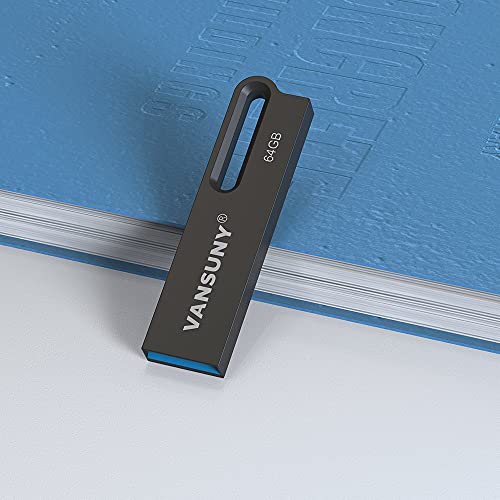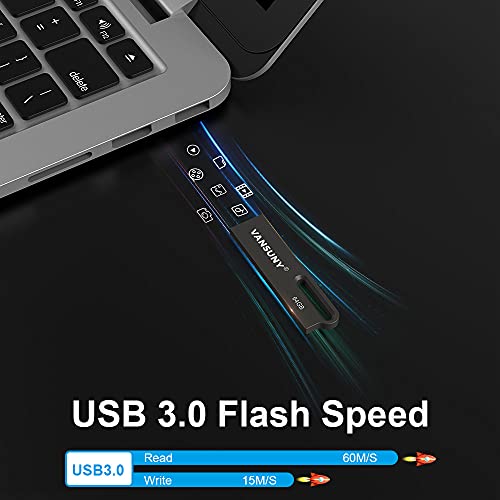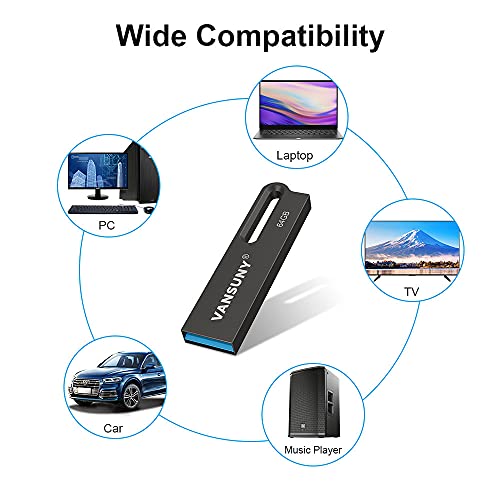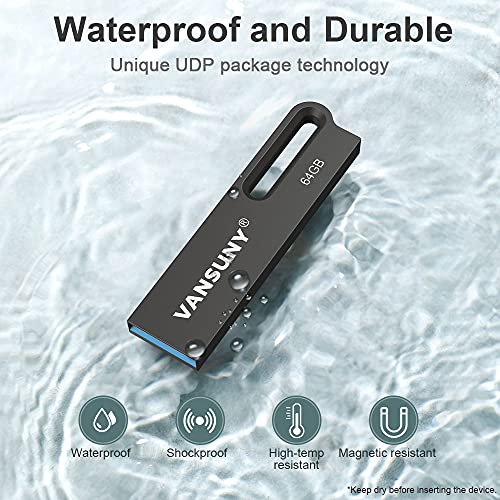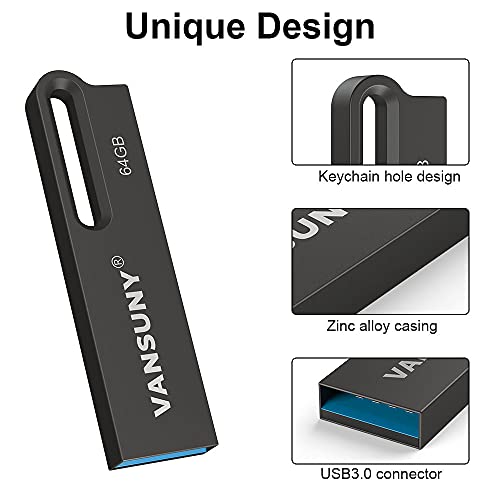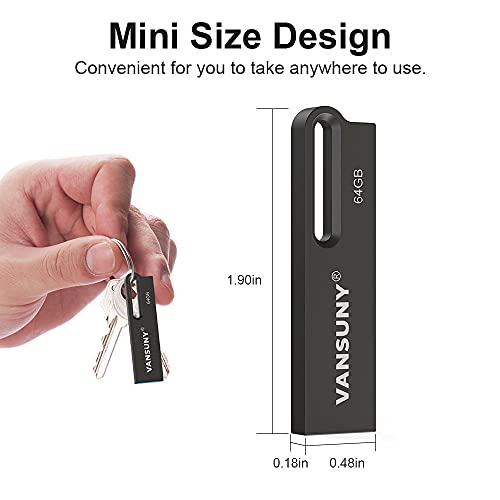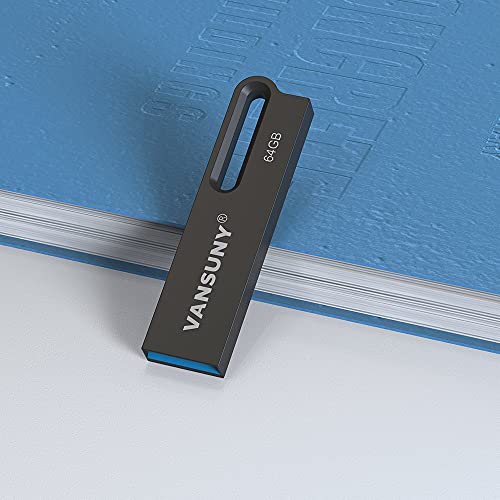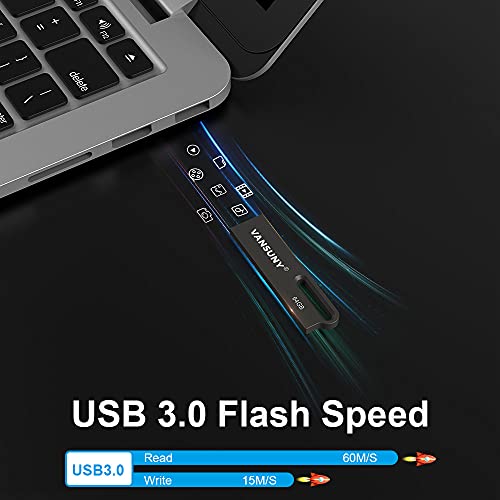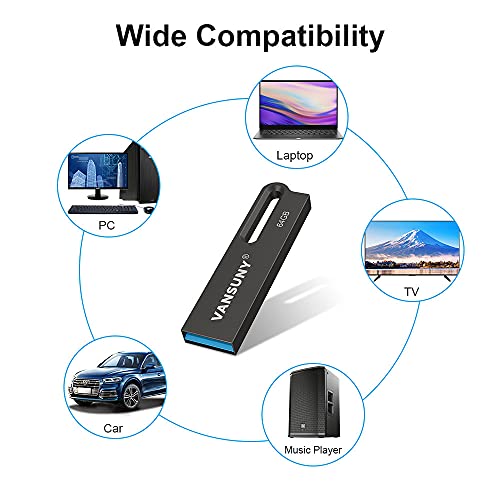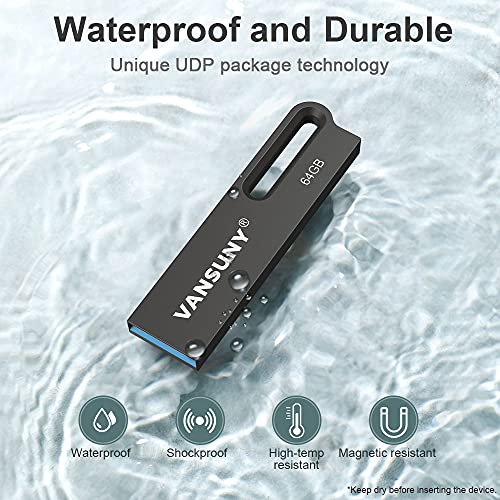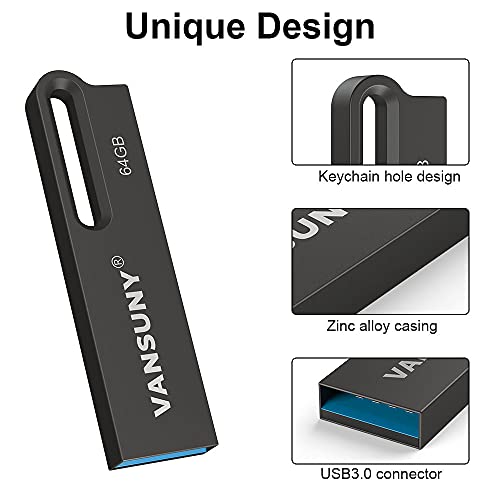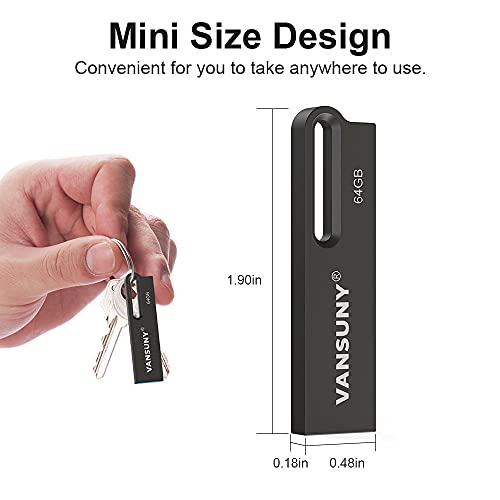 Vansuny 64GB Flash Drive Metal Waterproof USB Drive USB 3.0 Ultra High Speed Memory Stick, Portable Thumb Drive for PC/Tablets/Mac/Laptop
Unique UDP technology enhances the strong waterproof performance

Sturdy zinc alloy casing extends the durability

Ultra mini size of 4.8x1.2x0.5cm/1.9x0.5x0.2inch with a sizable lanyard hole

No cap to lose

Available in capacities of 16GB~128GB
VANSUNY Waterproof Metal 64GB USB 3.0 Flash Drive
The full-metal thumb drive has USB 3.0 port.

It's easy for you to transfer data between PCs, tablets, car audio, speaker , smart TV.

Small, lightweight, plug and play, keyring, easy to carry around.

Fast heat dissipation, waterproof wear resistant, dust-proof, splash-proof, shockproof, temperature-proof.
Metal Shell With High Performance Chips
Rugged and stylish on the outside, powerful on the inside
This USB flash drive is all metal and black, which not only looks high end but also has good heat dissipates to ensure the high performance of the drive. (Any USB stick will heat up when in use, this is a normal part of the work of a USB stick).
Capacity: 16GB/32GB/64GB/128GB

Color: Black

Interfaces Type: USB 3.0

Compatible System: Windows XP/7/8/10, Linux, Mac OS etc.

Product Dimension: 1.90*0.48*0.1inch

Item Weight: 41g/1.45oz

Package includes:1 x VANSUNY USB 3.0 flash drive
Providing You With High Quality Products
Vansuny continues to research and develop its products, and now has a kind of products, including mobile phone USB flash drives, high-speed USB flash drives, PSSDs and desk lamps, etc. We have been adhering to the determination to make good products, and constantly receive user suggestions for improvement, to provide consumers with more powerful products.
Powerful Storage & High Speed
With a huge 64G capacity, you can store a lot of pictures, videos, music and other data files, and when you need to transfer data, the USB 3.0 transfer will get you done in no time, without waiting too long.
Plug and Play
There is no need to download any software to use this USB stick. It supports many devices, including computers, PCs, laptops, TVs, car stereos and other devices with USB ports, and it also supports a wide range of file formats, which basically allows you to use it in many scenarios.
Waterproof and Durable
The unique encapsulation technology and metal casing make this USB stick waterproof, drop-proof, tight and durable. Protects your file data.(Keep dry befor inserting the device)
Portable and Convenient Design
Small and delicate design, weighing only 9 grams, very light. Size: 1.90*0.48*0.1inch, also has a key ring, convenient for you to take anywhere, no burden!
Read/write speed may vary depending on the different capacity and operating environment.

The usb drives default format is exFAT, and you can reformat it if needed.

1GB=1,000,000,000 bytes. The actual available capacity for data storage is less than the identifying capacity, as some of which is used for formatting and other functions.

Utilize the best transfer speed with USB 3.0 interface yet speed may vary based on host device, Interface type, file attributes and other factors.

When the USB flash drive enters water, need to wait for dry to avoid device short-circuit.
Customer questions & answers
There are no pesky flashing lights that will give your position away to enemy troops.
By J. D. Fisher on February 13, 2022

This USB flash drive is not designed with LED, and it will not flash during use.
By Vansuny SELLER on February 14, 2022
HAVE ANY OTHER QUESTIONS?
Feel free to leave your questions to us. We will reply you within 24 hours!